Death in Pont Aven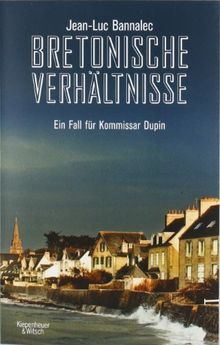 The first one was «Bretonische Verhältnisse» («Death in Pont Aven»), by Jean-Luc Bannalec (pseudonym for German author Jörg Bong). It's an entertaining thriller recommended for everyone who enjoys stories about detectives, murders, a lot of coffee and a touch of humor.
This is a very popular book here in Germany, I actually bought it at the train station while waiting for my bus to go home. I had already seen it in other libraries and decided to give it a shot.
Police commissioner Dupin, «an idiosyncratic penguin lover and Parisian-born caffeine junkie» (Amazon's description), lives in the French Brittany. One morning, hotel manager Pierre-Louis Pennec is found murdered at the Central Hotel. Dupin is in charge of the investigation but after a break-in and another death, he finds himself wandering the lies, secrets and lives of Pont Aven's villagers.
It was an entertaining book with a good plot but it didn't really capture me as a reader.
The Fault in our Stars
«The Fault in our Stars», by John Green came to my attention because of a good friend of mine.
One of Green's most beloved novels, it tells the story of 16-year-old Hazel Grace, a smart, cynical girl, who suffers from terminal lung cancer. When her mother decides she is depressed, she is immediately sent to a support group, where she meets the handsome, charming, smarty-pants, Augustus Waters. As expected, they fall in love, as they struggle to overcome the burden that is being aware that any breath could be their last.
It is a rather simple book, witty and well written, yet extremely cheesy at some point and borders on the implausibility. It is not a book about cancer, but about young people, eager to outlive their situation.
Looking for Alaska
John Green is also the author of the third and final book of the month: «Looking for Alaska».
Miles is a teenage boy who, in an attempt to have a change of air, moves to attend a boarding school in Alabama. There he meets «The Colonel» and Alaska Young, two friends who pull him into their crazy world (especially Alaska's). Naturally, Miles begins to fall for the unstable, impulsive and self-destructive Alaska, but she won't let him in since she's too busy trying to «find her way out of her labyrinth». As they live day by day, try to discover who they are and plan pranks on their schoolmates, they suddenly face an unexpected turn of events that will change their lives forever.
It was a quick book, full of youth and experiences. Although I felt the first part («Before») a little slow, the «After» improves, went faster and ended pretty well.